Nachdem es wider Erwarten zum Sonnenuntergang doch noch klar wurde:
Kamera ins Auto und auf zu einer Stelle mit freiem Blick zum Westhorizont. Ab 18:30 wurde mit einem Feldstecher und Peilkompass die fragliche Stelle abgesucht … der Himmel aber leider immer noch viel zu hell und der Komet zu schwach. Ab 19:20 war er dann im Feldstecher endlich sichtbar. Zwischen 19:30 und 20:00MEZ sind einige Dutzend Fotos mit einem 200mm/F2.8 Objektiv auf einem Stativ entstanden (und meine Füße bei -5°C fast abgefroren) 😉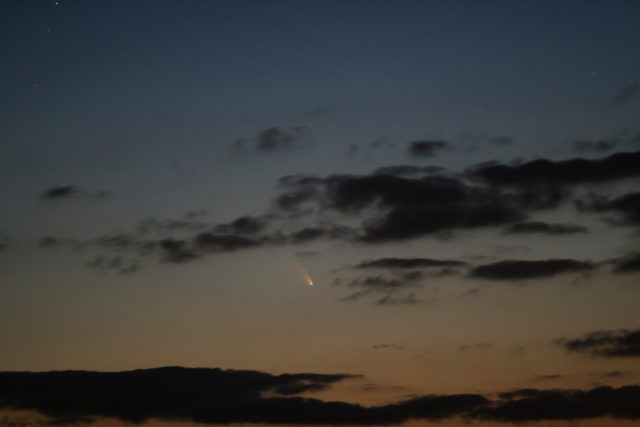 Aus den einzelnen Fotos habe ich kleines Zeitraffer-Filmchen erstellt. 30 Minuten in real auf 1 Minute "eingedampft":


Comet Panstarrs C/2011 L4, 2013-03-14 19:30 - 20:00 UT+1
Brelingen, B62, 52°33' N / 9°41' E
Canon EOS30d, 800 ISO, 200mm F/2.8 on tripod (no tracking).
Exposure time 0.5s at first and 6s for the last pictures.